To see if your favorite OTB is participating in this event, click here to search for a location.
GET OUR SIGNATURE QUESO FOR ONLY A BUCK!
Queso makes everything in life better. And for a very limited time only, you can get a warm cup of our Signature Queso for just one dollar!
Now this isn't your average queso they sell at the ballpark. We're talking REAL queso that's made fresh every day, by hand, with quality ingredients like chopped tomatoes, green chiles, onions, peppers and a whole lot of love.
If you can't tell, we're passionate about our queso, and we think the world deserves to know about it, starting right here in Colorado.
So stop by today, grab one of our house made warm chips and dip in. Just one crunch and you'll agree, this is pretty much the best queso on the planet, and it's all yours for only a buck. But only through September 27th.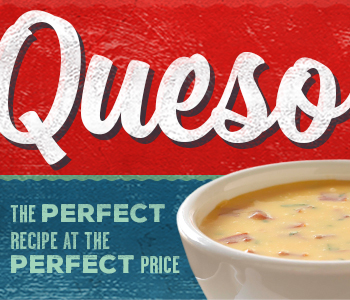 Bowl of Original Queso for $1 Valid September 7,2017-September 27, 2017. No substitutions. Offer valid at participating locations in the continental U.S. only. Non-transferable. Excludes tax & gratuity.