ARE YOU A MARGARITA MASTER?
Do you LOVE margaritas? Do you craft a legendary fresh-lime 'rita? Do you spread margarita love from coast to coast? Do you have the solve for the wretched brain freeze? Then you just might have what it takes to be our new Chief Margarita Officer (CMO)!
We are searching for an experienced, self-driven and fun-loving Chief Margarita Officer (CMO) to join our team! As CMO, you will be responsible for representing, and celebrating, mankind's greatest gift – the margarita.  This could be the very first CMO in US Restaurant history.
A CMO is adventurous, passionate about margaritas and an expert in all things margaritas. The ideal candidate must be able mix up margaritas on short notice, distinguish between fresh-squeezed lime juice and canned limeade and make a solid argument for why salt is better than a sugar rim.  While the CMO loves great margaritas, the CMO also understands moderation is key to a great next day and encourages others to also indulge responsibly.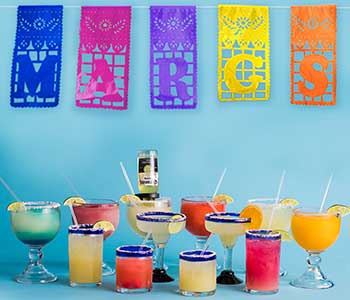 CMO Responsibilities:
·       Uphold the proud history of On the Border as the destination for the world's greatest margaritas – We have been doing this for 36 years and know a thing or two about Margaritas.
·       Create an effective, painless and fast technique for overcoming a brain freeze
·       Develop the most effective shaking method to create the perfect margarita on the rocks. 
·       Being able to effortlessly recite all drinking holidays and happy hour specials for competitors
·       Margarita Evangelist - Spread margarita love from coast to coast and eventually across the world.  Convert vodka and whiskey drinkers into margarita aficionados and raving fans.  Post about their love for margaritas with their followers and friends.
·       Must be well versed in the OTB Cantina Drink Menu
CMO Requirements: 
·       Must be atleast 21 Years Old
·       Enjoys margaritas responsibly and encourages others to do likewise
·       Loves to serve the perfect margarita .  Understands the art of crafting margaritas that don't need to be followed by infusions of electrolytes, bananas, bagels, coconut juice or sunglasses the next day
·       Must be able to shake drinks for extended periods of time with a tumbler in both hands
·       Team player/leader: Understands that a good margarita can often help the cross-functional team have more interesting and robust discussions
·       Must be able to effectively identify the best margarita pairings for a yellow queso, a white queso, a roasted tomatillo salsa, a more traditional tomato salsa and a great steak fajita
·       Must remain composed.  Like a good margarita, doesn't melt under pressure and likes it rocky too.  Knows that a little salt and fresh squeezed lime in life adds that extra little kick
·       Should be able to, identify the region, type of tequila, vintage and producer with a quick glance, whiff and sip; friends and family have traditionally recognized you as a tequila and margarita savant.  At minimum, should be able to visually distinguish between a silver and gold tequila
·       Proficient in choosing the best combination of tequila, sour and liqueur quickly as though it were a reflex.  Has fun being challenged to make great tasting margaritas with ingredients as varied as squid ink, brussels sprout puree, anchovies and even kombu
·       Shares naturally, whether it be great fiesta experiences or a ride share with other friends after a great fiesta
Compensation:
$1.,000 Award as On the Border's first Chief Margarita Officer, paid with $1,000 in OTB Gift Cards.  Use the gift cards for two years of margaritas or a grand fiesta on the patio for friends and family.
Applying:
Submit your application to cmo@ontheborder.com
Please submit your responses to these questions:
·       Are you at least 21 years old?
·       What makes you qualified to be On The Border's first Chief Margarita Officer?
·       What would be your first act if named CMO?
·       Tell us about your favorite margarita.
·       Share a fun story involving a margarita.
·       Upload a photo (only accept tiff, jpg, bmp or png file)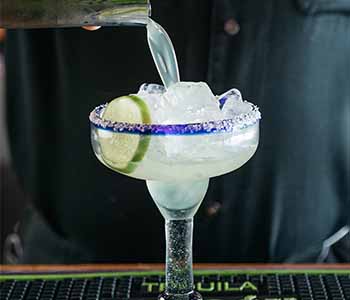 OFFICIAL RULES
NO PURCHASE OR PAYMENT OF ANY KIND IS NECESSARY TO ENTER OR WIN.
A PURCHASE WILL NOT INCREASE YOUR CHANCES OF WINNING.
1.  Eligibility:  "Chief Margarita Officer" designation ("Giveaway") is open only to legal residents of the United States and age 21 or older. Employees and directors of OTB Acquisition LLC dba On The Border Mexican Grill and Cantina ("Sponsor"), their respective parents, subsidiaries, affiliated companies, and advertising, promotion, or production agencies associated with this offering (and the IRS dependents, immediate family members and individuals residing in the same household as any of the foregoing persons) are not eligible.  All applicable federal, state, provincial and local laws apply.  By participating, you agree to be bound by these Official Rules ("Rules"). Void where prohibited.
2. Entry Period: February 4, 2019, at 12:00:01 p.m. Eastern Time ("ET") through February 17, 2019, at 11:59:59 p.m. ET (the "Eligibility Period").
3. How To Enter: There is one way to enter the Giveaway:
(a)   VIA EMAIL:    During the Giveaway Period, submit an email to cmo@ontheborder.com with the requested information.  Incomplete submissions are void.
Limit one (1) entry per person regardless of method of entry. As part of the entry process you may be given the option to choose to receive promotional messages from the Sponsor; however, your election to do so is optional and will not affect your chances of winning.   Any attempt to enter more than once with multiple identities, email addresses, or by any other means, may result in disqualification. No responsibility is assumed for illegible, lost, late, damaged, incomplete, misdirected, or stolen entries. Proof of transmission is not proof of receipt.  Sponsor's database computer is the official timekeeping device for the Giveaway. Use of any macro, bot, script or other automated means to submit entries is prohibited. Each website entry will be deemed submitted by the authorized account holder of the email account associated with the entry. An "authorized account holder" is defined as the natural person to whom the email address is assigned by an internet service provider, online service provider or other organization that is responsible for assigning email addresses for the domain associated with the submitted email address.
4.  Selection of Winner:    One (1) winner will be selected by a panel of judges selected by the Sponsor on or about February 21, 2019. Potential winner will be notified using the contact information supplied at time of entry. No liability is assumed for any winner notification that is lost, intercepted or not received by a potential winner for any reason. Failure to respond to any winner notification within two (2) business days may result in disqualification and selection of an alternate winner.  Potential winner may be required to sign an affidavit of eligibility, liability/publicity release (where legal), and an IRS Form W-9. Failure to comply when requested may result in disqualification and selection of an alternate winner. If potential winner is found to be ineligible, or if he or she has not complied with these Official Rules or declines a prize for any reason prior to award, such potential winner will be disqualified and an alternate winner may be selected. Sponsor reserves the right to require proof of identification, age, eligibility, and acceptance of these Official Rules from any potential winner prior to awarding a prize. 
5. Prize/Odds:  One (1) On The Border Gift Card in the amount of $1,000 and designation of "Chief Margarita Officer" for one (1)-year.  Prize is non-transferable and no substitution by winner is allowed. Sponsor reserves the right to substitute prize or any component thereof for something of equal or greater value in the event the advertised prize or any components thereof becomes unavailable. Gift cards are subject to issuer's standard terms. The prizes are not transferable, assignable or redeemable for cash.   Any difference between advertised and actual values will not be awarded. The total Approximate Retail Value ("ARV") of the Grand Prize is $1,000.
Odds:  Odds of winning depend on the number of eligible entries.
6. Prize Conditions:  Sponsor may conduct a background check to confirm eligibility and compliance with these rules.  By entering, you agree to cooperate reasonably with any such background check. Failure to cooperate may result in disqualification and selection of an alternate winner.  If a potential winner or potential guest has engaged in or does engage in any conduct that could damage the reputation or business of any sponsor, as determined by Sponsor in its discretion, the potential winner may be disqualified and the prize may be awarded to an alternate winner, time permitting.   Each potential winner and potential guest must also comply with all requirements for proper and appropriate behavior during any prize-related activities or events. Any inappropriate behavior, as determined by Sponsor in its sole discretion, may result in removal from any activity or event.
7. Conditions Of Participation/Release of Liability:  By entering you agree that: (a) Sponsor, and its respective parents, subsidiaries, affiliates, advertising and promotion agencies, and all of their respective officers, directors, employees, shareholders, representatives, licensors, licensees, distributors, retailers and agents (collectively the "Released Parties") will have no liability whatsoever for, and you release and hold harmless the Released Parties for any liability for any injuries, losses or damages of any kind to persons, including death, or property resulting in whole or in part, directly or indirectly, from acceptance, possession, misuse or use of or inability to use any prize or from participation or inability to participate in this Giveaway, including any Giveaway-related activity, and under no circumstances, including negligence, shall any of the Released Parties be liable for any direct, indirect, incidental, special or consequential damages resulting from participation in the Giveaway or acceptance, use or misuse of any prize, (b) Released Parties will have no liability whatsoever for failure to supply a prize or any part thereof, by reason of any acts of God, any severe weather, hurricane, flood, fire, war, transportation interruption of any kind, or any other cause beyond their control, (c) except where legally prohibited, winners grant (and agrees to confirm in writing) permission for the Released Parties and those acting under their authority to use his/her name, photograph, voice, statements and/or likeness, for advertising, trade and/or publicity purposes without additional compensation in all media now known or hereafter discovered, worldwide, including, without limitation, on the Internet, without notice, review or approval, (d) if any prize notification or prize is returned as non-deliverable, or if winner is found to be ineligible or not in compliance with these Rules, such prize will be forfeited and an alternate winner may be selected at Sponsor's discretion, (e) noncompliance with any of the foregoing may result in disqualification and awarding of prize to an alternate winner as determined in the sole discretion of the Sponsor.
8. No Offer of Employment: By entering in this Giveaway and/or winning the offered prize, you understand, acknowledge and agree that nothing contained herein shall be construed as nor constitute an offer of employment by Sponsor to you.  The only remuneration to the winner is the prize as defined herein.
9. General: No responsibility is assumed for (a) any damage to an entrant's computer system or mobile device which is occasioned by accessing the Website or otherwise participating in the Giveaway; (b) any computer system, mobile phone, hardware, software or program malfunctions, or other errors, failures or delays; (c) incomplete, illegible, misdirected, misprinted, late, lost, damaged, or stolen, or entries or prize notifications; (d) lost, interrupted, inaccessible or unavailable networks, servers, satellites, Internet service providers, websites, or other connections; (e) miscommunications, failed, jumbled, scrambled, delayed, or misdirected computer, mobile phone or cable transmissions; (f) any technical malfunctions, failures, difficulties or other errors of any kind or nature; or (g) the incorrect or inaccurate capture of information, or the failure to capture any information. 
Persons who tamper with or abuse any aspect of the Giveaway or any website, as solely determined by the Sponsor, will be disqualified, and Sponsor reserves the right to terminate such entrant's eligibility. Should any portion of the Giveaway be, in Sponsor's sole opinion, compromised by virus, worms, bugs, non-authorized human intervention or other causes which, in the sole opinion of the Sponsor, corrupt or impair the administration, security, fairness or proper play, or submission of entries, Sponsor reserves the right at its sole discretion to suspend, modify or terminate the Giveaway, and select winner from entries received prior to action taken or as otherwise deemed fair and appropriate by Sponsor. Released Parties are not responsible for any incorrect or inaccurate information, whether caused by website users, tampering, hacking, or by any equipment or programming associated with or utilized in the Giveaway, and assumes no responsibility for any error, interruption, deletion, defect, delay in operation, or transmission, communications line failure, technical failure, theft or destruction, or unauthorized use of any technology used in connection with this Giveaway. Any use of macro, automatic, programmed, robotic, or like entry methods will void all such entries by such methods, and entrants using such methods will be disqualified. 
By participating, you agree that: (a) any and all disputes, claims, and causes of action arising out of or in connection with the Giveaway, or any prizes awarded, shall be resolved individually without resort to any form of class action; (b) any claims, judgments and awards shall be limited to actual out-of-pocket costs incurred, including costs associated with entering the Giveaway, but in no event attorney's fees; (c) under no circumstances will any entrant be permitted to obtain any award for, and entrant hereby waives all rights to claim, punitive, incidental or consequential damages and any and all rights to have damages multiplied or otherwise increased and any other damages, other than damages for actual out-of-pocket expenses; and (d) these Rules and all disputes shall be governed by the internal laws of the state of Texas, without regard to principles of conflicts of laws, any disputes shall be resolved exclusively in the state or federal courts in the state of Texas and you expressly consent to the jurisdiction of said courts and waive any objection thereto.  For New Jersey residents, the limitations set forth above are inapplicable where attorneys' fees, court costs, or other damages are mandated by statute.
10.  Data Collection/Privacy:   Sponsor and its agencies collect information from you when you enter the Giveaway. Entering the Giveaway constitutes your permission to Sponsor to collect and maintain the data. The information collected is subject to the Sponsor's Privacy Policy at https://www.ontheborder.com/privacypolicy.
11.   Winner List:  For name of winner, available after February 22, 2019, send a self-addressed stamped envelope to Sponsor at 2201 West Royal Lane, Suite 240, Irving, Texas, 75603. 
12. Sponsor: OTB Acquisition, LLC dba On The Border Mexican Grill & Cantina 2201 West Royal Lane, Suite 240, Dallas, TX 75603.