To see if your favorite OTB is participating in this event, click here to search for a location.
New Limited Time Only Winter Treats!
We're celebrating this winter season with some spiced treats that will be sure to warm you up! Try a little flare with your fiesta with our new Fireberry Sangarita or our new Cinnamon Kahlua Shooter with Mini Sopapillas. Both delicious and both available for just a limited time!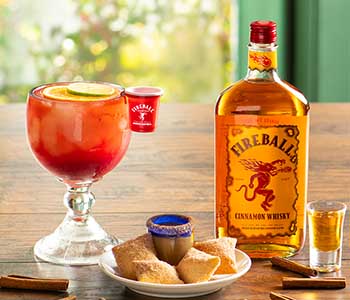 New! Fireberry Sangarita
Our famous margarita swirled with our red wine sangria and served with a Fireball Cinnamon Whisky Sidecar. Only available while supplies last so hurry to try yours today!
New! Cinnamon Kahlua Shooter with Mini Sopapillas
Perfect after dinner pairing of Kahlua Coffee liqueur, cinnamon cream rum and Fireball Cinnamon Whisky served with our Mini Sopapillas.
Fireball Meltdown
For a kick in the glass, make it a meltdown with a Fireball Cinnamon Whisky floater for any margarita!
*Prices and participation may vary. Available for a limited time only. Must be 21+ to consume alcohol. Valid ID required. Alcohol is available for Dine-in only. Please drink responsibly.