To see if your favorite OTB is participating in this event, click here to search for a location.
For a Limited Time Only, Try our new 2 for $22 Border Feast - Now Featuring Grilled Queso Chicken
We're serving up 2 times the flavor! Here's how it works:
Start with 2 appetizers: choose from a fresh side salad or a cup of tortilla soup
Then choose 2 entrees:
New! Grilled Queso Chicken
Border Queso Beef Enchiladas
Mexican Grilled Chicken
Beef or Chicken Taco Salad
Two Southwest Chicken Tacos
Or plus it up with:
Caribbean Mango Grilled Fish for $1.50 more per order
Classic Chicken Fajitas for $2.50 more per order
Finish with a full order of sopapillas drizzled with honey & chocolate sauce or for $2 more per order get our famous Border Brownie Sundae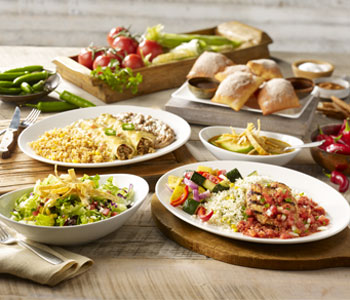 *Limited time only. Available for dine-in only. Not valid with any other coupon or promotional offer. Excludes tax and gratuity. Prices and participation may vary. Available only at participating. Offer valid through August 25th, 2019.