To see if your favorite OTB is participating in this event, click here to search for a location.
With sizzling mesquite wood fire grilled flavor on the menu and fiesta-worthy music pumping through the restaurant all day, every day, it's no wonder we like making #anyexcusetofiesta. Throw in some frosty handmade margaritas, and it's a full-fledged celebration. So naturally, with Mexican Independence Day around the corner, we're taking things up a notch – or down, in this case – with $3 House Margaritas.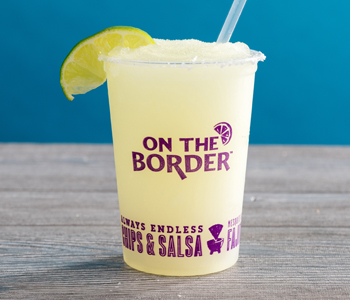 Frozen? On the rocks? Salt? No salt? Doesn't matter! On 9/15-9/17 you can have your house margarita any way you want it for only $3! We can't think of anything better. So grab some friends and come to On The Border for the fiesta of the year.
Valid September 15-17, 2017. Prices and participation may vary by location. Void where prohibited by law. Dine-in only. Must be 21 or older to drink alcoholic beverages. Valid ID required. Please drink responsibly.