To see if your favorite OTB is participating in this event, click here to search for a location.
Queso, Fajitas and Sopapillas all for only $9.99!
We've been perfecting our fajitas since the day we opened in 1982. We use a mesquite wood-fired grill to cook only the freshest cuts over an open flame, creating a flavorful and unique fajita experience you'll never forget. So it's no wonder that we've created an official national holiday to celebrate them! On August 18th, we'll be throwing our second annual fajita fiesta, featuring our Classic Fajitas. For just 9.99, you can get a plate of sizzling fajitas and all the fixings with a cup of queso and two sopapillas.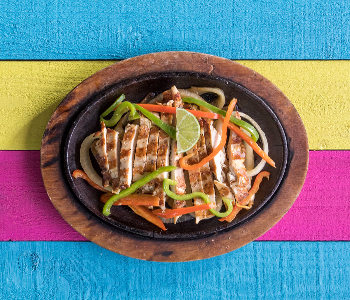 Our Classic Fajitas are served hot off the grill with warm hand-pressed flour tortillas, sour cream, pico de gallo, cheese or guacamole, Mexican rice and black beans or refried beans, and their authentic flavor pairs perfectly with our signature, handmade margaritas.
Stop by on National Fajita Day to celebrate the most sizzling holiday of the year. We'll have the grill ready for you.
Fajita Day bundle includes one cup of Signature Queso, one full order of classic fajitas and two sopapillas for $9.99. Steak or shrimp fajitas are $2.00 extra. Not valid on primo quesos, ultimate fajitas or monterey ranch fajitas. Prices and participation may vary by location. Not valid with any other coupon or promotional offer. Non-transferable. Offer valid in restaurant only. Valid August 18, 2017.