CELEBRATE WITH $2 MARGARITAS!
The very first margarita was created in 1938 by Carlos Herrera in Tijuana, Mexico. Or by Don Carlos Orozco in 1941. Or maybe Margarita Sames in 1948. Actually, it's kind of a mystery. And even though we didn't invent the margarita, we definitely perfected it.
Come fiesta with us Friday, February 9 through Sunday, February 25 and celebrate this awesome holiday with $2 House Margaritas, $5 Patron shots and more!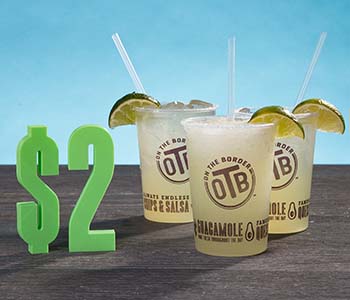 Make the most of this special occasion with specialty margaritas you won't find anywhere else. Our large variety of margaritas promises something for everyone! Frozen? On the rocks? Salt? No salt? Whatever you choose, you can't go wrong! So come celebrate the day that honors what we can all agree is pretty much the best drink on either side of the border.
$2 Margaritas are an ask for offer valid February 9- 25, 2018. Price and participation may vary by location. Void where prohibited by law. Dine-in only. Must be 21 or older to drink alcoholic beverages. Valid ID required. Please drink responsibly.