How Loyalty Members Dine
As a Border Rewards member you can now earn points and redeem rewards on purchases in restaurant. In order to do this, you must identify in restaurant as a Loyalty member using the Phone Number on your account. If a server doesn't ask for your number, you will not get credit for your visit or be able to use rewards on your account. Follow these simple steps to ensure you're getting credit on every visit!

Join Us In Restaurant
Pull up a chair in the dining room, on the patio, or in the bar and let the server know you're a member of Border Rewards.

Present Your Phone Number
The server will ask for your phone number so they can look up your Rewards account. Have it handy!

Earn Points + Redeem Rewards
With your Loyalty account now on the check, you'll earn points on your purchase, as well as be able to use whatever Rewards you have available.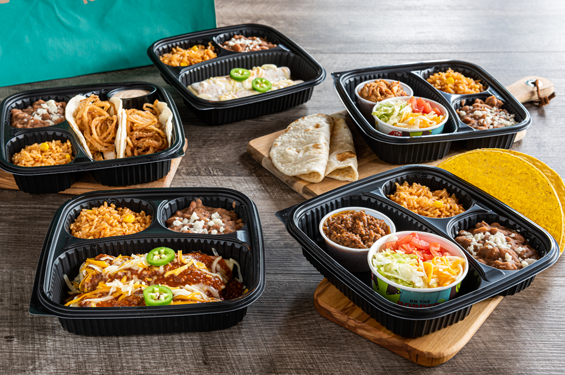 Earn Points on Online Purchases
Rewards that Travel
As a Border Rewards member, you can now earn 1 point for every $1 spent on online orders through our online ordering site. All you have to do is Sign In to place your order using your email address and password linked to your Loyalty account. Any available Rewards will also appear directly on the ordering site so you can easily apply them at checkout!
Loyalty FAQs
What is Border Rewards?
Border Rewards is On The Border's new loyalty program! As a Border Rewards member, you receive 1 point for every $1 spent in restaurant, plus 1 point for every $10 spent on catering. The more points you earn, the more rewards you win for use on future visits. Surprise rewards will be delivered throughout the year and bonus challenges will help you keep your point-earning game strong. Not to mention, you get a free Dessert with a purchase of an entrée for signing up, plus additional rewards on your Birthday.
How do I check my points balance?
You can check your points balance easily by logging in to the following link using your email address and password you used to set up your Border Rewards account. You'll also be able to see all available rewards.
How do I earn points in restaurant?
Each Border Rewards member is given a unique Loyalty Number. This Loyalty Number must be presented to the server when dining in, in order to associate your Loyalty Account to your purchases. Every purchase you make using this number ties points back to your account to trigger rewards. So make sure you always tell the server your Loyalty Number when ordering!
If you're having a hard time remembering your Loyalty Number, no problem! We make sure to include it in every email we send you. You can also use your phone number as a reference to the server, if you added one upon signing up.
How do I earn points on online purchases?
Border Rewards members can use their rewards and earn points on online orders! All you have to do is click the link below to our Online Ordering site and Sign In using your Border Rewards email address and password. Then you'll earn points on your order, and also be able to apply rewards like $5 off at checkout.
How do I redeem rewards in restaurant?
To redeem a Border Reward in restaurant, simply alert your server that you have a reward on your account. Give the server your Phone Number or the Account Number (found on any email you receive). The server can then look up your account and apply your available rewards to the check.
How do I update my Rewards account?
If you'd like to update the email address on your Rewards account or even change the frequency of messages you receive, please log in to your Rewards account by clicking the link below.
If you do not know your password, please follow the steps to Reset Your Password to login.