To see if your favorite OTB is participating in this event, click here to search for a location.
A THREE-COURSE HOLIDAY FEAST FOR $9.99
For a limited time during this special season, come to On the Border for a full order of chicken fajitas, a cup of queso and 2 sopapillas for just $9.99.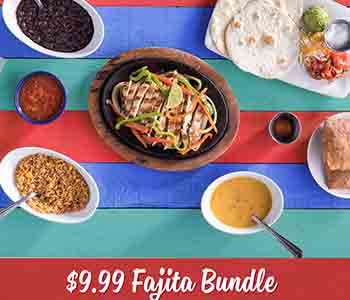 Did you know we hand-marinate our all-white-meat chicken and mesquite grill it to make sizzling fajita perfection? Or how about how we carefully stir green chiles, onions, cilantro and a kick of jalepeño into melted cheese to make our Signature Queso? We also make fresh sopapillas in house and hand shake powdered sugar and cinnamon onto them for warm and crispy deliciousness. If you did know all that, you're pretty much an On the Border genius.
So come enjoy all that holiday goodness for just $9.99. That's a lot of food for just a little dinero.
Dine-in only. Fajita bundle includes one cup of original queso, one full order of fajitas for one and two sopapillas for $9.99. Steak or shrimp fajitas are $2.00 extra. Not valid on primo quesos, ultimate fajitas or monterey ranch fajitas. At participating locations in the continental U.S. Not valid with any other coupon or promotional offer. Non-transferable. Valid December 1st, 2017 - December 24th, 2017.